WHY IS FINANCIAL PLANNING NECESSARY?
If you have life goals, such as a worry-free retirement, education for your children at the best schools and colleges, buying a house or a car — then building a financial plan can help you achieve these goals.
Your financial plan will work towards achieving goals such as planning for your retirement, child's education, marriage, buying a house, debt management and insurance.
Financial planning could help you:
Categorise your risk appetite
Put a number to your goals (what is achievable and what looks difficult)
Map your current and future cash flows to your financial goals
Map your existing assets to your financial goals
Make a statement of your net worth
look at the adequacy of your insurance
Help you build a corpus for your retirement
Make recommendations for your portfolio
Moreover, it ensures you are better equipped to deal with the impact of inflation, especially in retirement when expenses continue but income streams dry up. It helps in upgrading lifestyle too.
There are contingencies like medical emergencies or unplanned expenditures. Sound financial planning can enable you to mitigate such circumstances, without straining your finances.
HOW TO DO FINANCIAL PLANNING?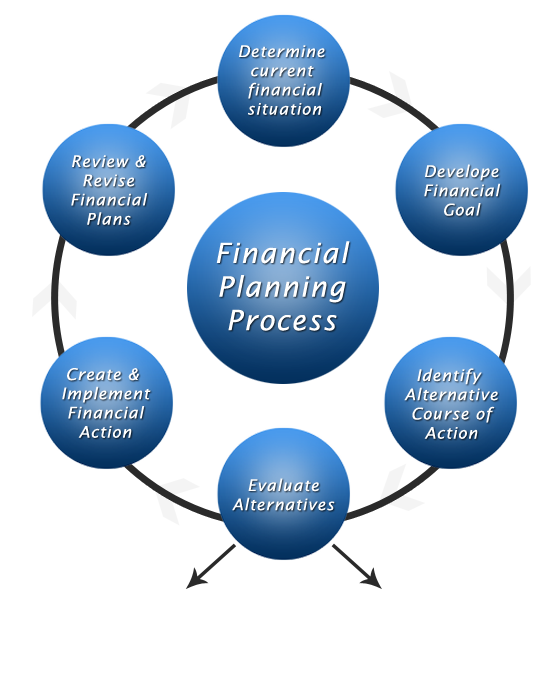 PLAN TODAY AND ACHIEVE YOUR GOAL OF TOMORROW
START SAVING NOW – Crucial to meet your financial goals and to be prepared for any eventuality
START INVESTING – to beat inflation make money work harder because there is only one you.
Start early for compounding magic to work
CONSIDER – your investment goals, time horizon, risk profile and personality
ASSET ALLOCATION – Most crucial to consider before you Invest. Where and how much to invest diversify your portfolio optimally
ACHIEVE YOUR FINANCIAL GOAL FOR EMERGENCY FUND, BUYING A CAR, CHILDREN'S EDUCATION, BUYING A HOUSE, DAUGHTER'S WEDDING & RETIREMENT.